Seven Layers of Lighting for Outdoor Evening Parties - Pt 1
Seven Layers of Lighting for Outdoor Evening Parties - Pt 1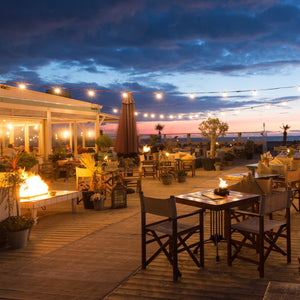 Seven Layers of Lighting for Outdoor Evening Parties - Pt 1
Lighting is something we so often take for granted. Light comes from the sky; venues provide commercial overhead lighting. Everything else is table dressing. Right? But when you're throwing an outdoor charity event that includes evening hours, lighting becomes a whole new element of planning. When the sun goes down, lights become necessary to keep enjoying the party and a beautiful element of your event decoration. Most importantly, you will light your outdoor event in sections and layers. Every area of your event can have several sources of light, coming together into a breathtaking outdoor venue.
But what kind of lights should you plan for your charity event? Let's take a closer look at the seven different layers of outdoor event lighting and the many things you can do with them. 
1) Strands of Lights to Define Spaces
Strand lights are any type of light strung on a long shared wire. There are so many things you can do with strand lights in an outdoor event. You can drape them over, wrap them around, create shapes, or drip them from trees. But the most functional use of strand lights is to define your spaces. Strand lights overhead can be used to outline your outdoor spaces where separate sections. Guests can easily wander toward the lighting above to find the snack stations, bar tables, activities, and so much more.
-Crossed Strands for Soft Illumination
Beyond simply roping around areas to mark them with light, you can also use strand lights to provide soft yet complete overhead illumination. Have a tent, pergola, porch, or just a few supporting posts? Create a hanging ceiling of crossed light strands. The sky will become a twinkling beauty, whether or not there are stars out on event night.
-Strand Lights Wound Around Railing
Strand lights look great wound around any kind of railing you can find. The frame of your pergola or the railing of a deck will look wonderful when wound with strand lights. They demark the area framed and create an ethereal look to your event.
-Draped and Dripping Trees
But the truly breathtaking use of strand lights is wrapped around and dripping from trees. Trees that drip strand lights like a weeping willow are elegant and visually unforgettable for your event guests.
2) Lightweight Chandeliers
Another great way to light your areas is with lightweight chandeliers strung for the purpose. You can create the impression of outdoor rooms decorated more lavishly than any resort ballroom with an artistic DIY or professionally designed outdoor chandelier. There are dozens of potential styles to chose, from bubble-like clusters of glass balls to dripping strands of lights from a wide hooped center. If you want to centrally light areas of your outdoor event or make a tent look superb, a chandelier is a centerpiece overhead.
3) Lighting Over Bars and Activity Stations
Every station of your outdoor event should have its own dedicated lighting. Bars, snack tables, activity areas, and more each need to be highlighted by their own distinct lights.  Build your event stations with bar-sized tables, outdoor-ready counters, and beautiful lighting. You can light overhead, table-top, and even underneath the bar.
-Crossbar for Hanging Lights
The best way to draw attention to your bar and stations is to place the lights overhead. The right bar design will include a crossbar on two posts that create a beam above the bar itself. This will allow you to wind a strand of lights or hang several multi-level hanging lamps to illuminate your station.
-Station Decor Lighting
The decor on the table-top surface of each station can also be lit. Candles in jars, or floating candles in votives can look beautiful. You can place glowing lanterns on the table or build special illuminated station decor.
-Bar Underlighting
You can even create incredibly cool-looking underlighting. Programmable LED strips can be stuck along the underside of the surface edge, for both tables and stools, to create a very hip, modern, night-club style look.