Add Gorgeous, Coordinated Mediterranean Lighting to Your Home
Add Gorgeous, Coordinated Mediterranean Lighting to Your Home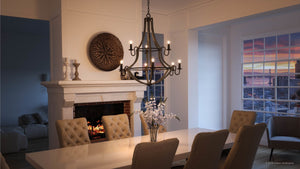 One fabulous way to update the look of your home's interior is to add Mediterranean-style lighting in your entryway, living room, and dining room. The Mediterranean style of decor typically consists of Spanish, Italian, and also Greek influences and will produce a gorgeous look in almost any home. For the best results, choose a similar piece for each area that you want to update, such as a chandelier design with an oil-rubbed bronze finish.
Three Coordinating Fixtures that Work Together
Entryway
For a chic look, consider a chandelier designed with five candelabra bulbs, all surrounded by an amber organza shade in a band style that will still allow you to admire the curved arms underneath that hold each bulb. This chandelier with crystal accents around each arm base—along with two crystal spheres attached to the center column, a larger one on top and a smaller one on the bottom—will look stunning. The steel construction provides the best quality and appearance, making this Mediterranean chandelier one to admire.
Dining Room
Choose a similar design as the chandelier in your entryway, except select a larger version. This one—with the arms extending wider, with six candelabra bulbs, and without the organza surrounding the lights—will create a look that you and your family will love. The lovely crystal accents will stand out even more without a shade, as will the beautiful bronze finish. This Mediterranean-styled chandelier will add the distinctive style and elegance to your dining room that you've always wanted.
Living Room
Whether your living room is used daily or is a more formal space used for special occasions only, a Mediterranean-style lighting fixture will look gorgeous. Opt for a two-tiered chandelier in the same design as mentioned above for a coordinated look. This stunning light with six candelabra bulbs on the bottom tier and three on the top will provide a dramatic look and plenty of light. The three crystal spheres—one on top, one in the middle between the tiers, and one on the bottom—will impress everyone, making this chandelier a conversation piece in your home.
For additional information about high-end, luxury lighting, please contact us today. We have a superb collection of styles to fit every decor.