11 Tips For Creating A Fun and Stylish Kids Bedroom
11 Tips For Creating A Fun and Stylish Kids Bedroom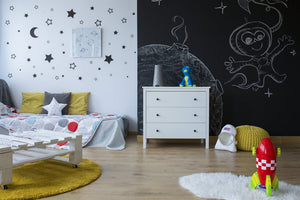 Designing a kid's bedroom is part art project, part playroom, and part soothing safe space. You want each child's bedroom to feel like a special escape, where adventures and dreams happen in equal measure. From how to paint the walls to how you store the toys, a child's room design shapes their experience at home. So, you should have fun with it!
Here are some amazing design tips to help you create a fun and stylish kids' bedroom for one -- or more-- children in your home.
Design a Room to Grow Into
At the heart of children's bed design is room to grow. Toddlers don't stay knee-high for long and a young child's playroom will soon become the oasis of a teenager. For a room that will grow and evolve with your child, consider color palettes and design themes that can grow in a fun and personal way. Choosing favorite animals, nature scenes, and timeless design elements will help to unify each stage of your child's development, perhaps enjoying the same blue walls or starry night ceiling while the books on the shelf and clothes in the closet change with each new grade.
Embrace Your Vertical Space with Loft Beds and Roll-Out
Children and teens love vertical rooms, and they are extremely efficient when designed. Combine loft-bed technology to create a double-layer room design with club houses and desk space underneath the bed, upper playhouse area, and/or stuffed animal garage.
Or take your shelves up to the ceiling with fun stair-step floating shelves or even a cat-run for children with a kitty or three. You can even bring storage down from the top with hanging hammocks and shelves.
Don't forget to use your under-space. A roll-out bed is a great surprise for sleepovers or could be replaced with roll-out storage under the bed.
Let Your Child Choose a Statement Rug
The rug in the middle of the floor can shape a child's experience in their room. Some kids will fall in love with a city roads rug that is perfect for playing with toy cars - at least for a few years. You may have a daydreaming child who picks a beautiful, patterned rug to lie on and imagine as their magic carpet. Or your child might choose a rug in the shape of their favorite animal and giggle each time they see it.
In fact, choosing a new rug every few years can act as the inspiration for design updates as your child, and their tastes grow over time.
Colorful Yet Comforting
What colors should you paint a children's room? Should you paint fantastic jungle scenery with animal friends, or soothing abstract mountainscape? Choice of color matters in children's rooms, and not just for simple aesthetics. Favorite color can play a large role in a child's self-identity and the colors in their room can also shape their mood.
If you choose festive colors, consider softer tones so that the room is both a comforting bedroom and a fun playroom. But don't be afraid of more mature color schemes, either. Children have a sense of beauty, and if your sophisticated eleven-year-old asks for a dusky gold and charcoal room, you know it will be gorgeous when you're done painting.
Wall Murals and Patterns that Inspire
Children love wall murals, big or small. Many children enjoy having trees or other scenery painted onto their wall or applied as a vivid wallpaper decal. A sunset beach, a mysterious forest, or the castle walls of a magical kingdom are all popular choices for an inspiring wall design. You can add a single spouting whale to ocean walls or fill a jungle with friendly monkeys and elephants. Or perhaps you draw a giant friendly lizard eye peering in a painted window. If you design the mural with your child, they're sure to love it.
Of course, chalkboard walls are also a huge. Paint or cover one wall with a magnetic chalkboard layer and enjoy endless murals drawn in (very washable) liquid chalk pens. Watch as your child's mural skills develop over years and preserve each design with a photograph before washing it away to draw the wall again.
A Ceiling that Looks to the Sky
One of the dreamiest ways to decorate a child's room is to make the ceiling into the sky. Some children prefer blue skies with fluffy clouds painted around their rooms' upper atmosphere. Some will simply adore a swirling galaxy of blues with sparkling of glow-in-the-dark stars to make their night sky complete.
Ceiling decal paper also makes it possible to craft a truly stunning view for your child's ceiling without being a master artist. Want to see distant hot air balloons beyond the clouds or Chinese dragon weaving amongst the stars and nebula? You can with ceiling paper.
Warm Lights and Fun Light Fixtures
Don't forget the light fixture. Children often lie on their bed or favorite carpet and stare at the ceiling. The light fixture is as much a part of their room and experience as the cubbies and closet. Choose light fixtures that inspire - whether they inspire wonder or giggles is up to you. There are many novelty light fixtures for kids, but you might also appreciate the mind-unlocking designs of swirling frames, geometric elegance, or creative ceiling fans.
If you have painted up the ceiling, you can also look for light fixtures that feel like fluffy clouds or perhaps soaring spaceships through their dream sky.
Make the Bed a Portal to Dreamland
Everywhere else in the room can be for play, but your child's bed should be a portal to dreamland. From canopy beds to racecar beds, the bed should be where your child goes to lay down their head - but not a play area so that sleep remains easy at bedtime.
Design a bed that beckons sleepers but doesn't quite become part of the playroom. Loft beds, canopy beds, and even fold-away beds (kids love secret beds).  This way, the bed feels like a magical space, but is magical for sleep instead of play.
Create a Space for Creativity and Schoolwork
Don't forget the desk and craft space. Children have always needed a space for crafts, but now being able to do schoolwork at home is more important than ever. Make this the same welcoming space with a table, chairs, and plenty of nearby organizing containers for colored pencils and special notebooks.
There are tons of clever ways to design a children's desk area. You can install a floating runner desk along one wall or nestle a desk below the loft bed space instead. You can build a desk out from the bed frame or fold one out from the wall. Give your child all the fun things about a personal office, like their own cork board to decorate and maybe even a little desk plant or pretty fish to take care of.
Arrange for Cleanability and Fun Storage
A fun and stylish kid's room should also be easy to clean. If you want your child to keep the room stylish on their own, equip them with plenty of cool storage bins and easy clean-up solutions. Arrange the furniture for clear floors, double layer the closet for reachable bars, and kit at least one shelf with cute cube storage to quickly sort and store all toys and other bedroom clutter.
Younger children will benefit from cleaning up together as they learn how, but soon your kids will be able to use a good built-in system to keep their rooms tidy without even trying.
Redesign Together as Your Child Grows
Finally, don't forget to redesign as your child grows.  Some kids have a new favorite color every year. If this is your child, paint the walls a cool neutral color and personalize with new bedding, wall posters every year. If your child's tastes develop more slowly - or in big occasional jumps, encourage your child to embrace those changes with a cool room redesign or a few new decorative pieces each year.
Designing the Perfect Kid's Bedroom with Urban Ambiance
When designing a fun and stylish bedroom for your child, Urban Ambiance is here to ensure you find the perfect light fixture. Whether your child loves ancient history, science fiction, or any style in between, you can find a stunning light fixture to make their new room complete. Contact us today to explore.