Curl Up this Winter: Soft and Cozy Living Room Décor
Curl Up this Winter: Soft and Cozy Living Room Décor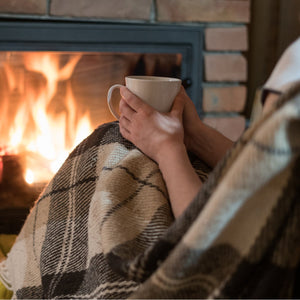 Why go out into the weather when there's a warm and comfortable living room to curl up in? Whether the living room is your oasis or where you spend time with family, a little cozy winter decorating can make your living room the perfect place to be on a cold afternoon. The contrast of ice outdoors and a fuzzy blanket by the fire is so profound that you'll find yourself sighing with contentment.
How can you transform your living room into a comfortable nest in the winter? Let's explore some of the best trends and traditions of cozy home designs.
 Hang Paintings and Curtains
A decorated home feels welcoming and lived-in, as if there is already a family conversation going on or about to start. Soften the edges of your living room with fabric and artwork. Long textured curtains give the room more shape and ambiance while hiding sharp corners and softening the light around windows. In fact, you don't even need a window to hang curtains. Archways, nooks, and long stretches of wall have all been improved by an understated curtain design.
Wall-mounted artwork also makes a room seem cozier by giving it personality and breaking up stark stretches of wall. Tapestries are very popular right now, both woven and printed. But you can't go wrong with framed paintings. Choose artwork that matches your warm winter color scheme and depicts either abstract or inspiring designs.
Bring Down and Warm Up the Lights
Gentle light is the key to a warm living room. While bright overhead lights are great during the summer (and for cleaning), you can make the same space soft and inviting with a combination of lamps and covered shades. Small lamps with amber or gold light scattered around the room remind us of the countless winters our ancestors spend lit by candles and lanterns. You could add in some new ceiling fixtures that soften the light with shades. Those warm islands of light create the perfect environment for soft conversations or curling up for a winter nap.
 Soft Chairs and Antique Touches
Give your family and guests somewhere comfortable to sit. The best cozy living rooms have plenty of seating and soft surfaces to relax into. Whether you're reading, napping, or holding a lively conversation, a ring of soft chairs and couches is essential to the winter family room design. Consider slinging new Papasan pillows into frames or wrapping old upholstery in new furniture covers and matching slips. You can add softness to a design without even changing the furniture, or you can completely re-arrange the room.
Antique furniture, mirror frames, and other living room pieces are perfect to bring in for homestyle cottage coziness. If you have a big, old candlestick or some heavy silver serving trays, arrange them alongside your modern art collection and your favorite books. A few pieces of real antique design can really bring a winter living room to life.
 Mix Your Soft Textures and Fabrics
Your curtains, carpet, upholstery, and even the canvas of your wall art plays a role in creating the softness of mixed textures in your cozy winter living room design. Don't stick with all one fabric. You want your room to look inviting, not like a waiting room. While your color palette may be absolute, mix up your warm fabric textures. Don't worry if your couch and armchairs don't exactly match up, that's what makes it feel like home. Tartan is a great addition. There is an inherent warmth in those bold lines and plaids from rocky Scotland.
Add more throw pillow and blankets. Give your family and guests somewhere to curl up and enjoy some cozy time indoors. Throw pillows and blankets serve a delightful dual purpose. First, they provide splashes of color and pattern to your living room to complete your visual design. Second, they make it more comfortable to relax into each seating arrangement or catch a few cozy moments in a sunbeam on late afternoons. And even if guests leave them messy, "Throws" still often look stylish thrown back onto the couch.
Build Bookshelves with Personality
Bookshelves are an extremely charming way to bring personality into your living room and make it feel like a real family space. Bookshelves packed with well-loved books show a family that loves to read. Art books, cooking books, magazine collections, and boxes of craft supplies each tell their own story about family life while the built-in shelves add a charm of their own. You can cut the drywall to build a recessed shelf or build new shelves out from the current space. Shelves are also a great solution for tiny nooks and unused spaces. Add some knick-knacks and family photos in to expand the personal touches on the shelves.
Hide Storage Everywhere
It's important to hide your storage. The key to a cozy living room is not just to make it softer and more inviting, but also to keep the clutter down to your most recent mug of tea. Use ottomans that are really storage chests for extra blankets and pillows. Add cube storage to your shelves to hold toys and games. Decorate around the entertainment center for mounts and organizers to hold all your media equipment. Provide yourself with trays and docks for personal devices hidden amongst the seating. A truly cozy living room is one that makes you want to chat by the fireside as if it was 1850.
This winter, make your living room your own. Dive into these soft and cozy decoration ideas and create a space that you will love to curl up in this winter. Contact us today to explore new lighting fixtures that will make your cozy living room complete.