Incorporating Lighting in Your Industrial Design
Incorporating Lighting in Your Industrial Design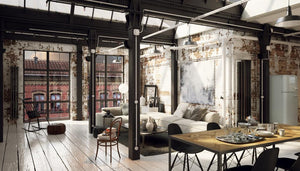 Drawing inspiration from warehouses and urban lofts, the industrial style of interior design primarily focuses on unfinished rawness: such as exposed brick walls, visible ductwork, and natural wood finishings. Industrial enthusiasts find beauty in the practical, and a sense of style in the unpolished.
The Origins of Industrial
Designed to be utilitarian, industrial buildings in the United States were largely constructed from the 18th through the 20th centuries. These buildings generally incorporated large windows to let in light and minimize the need for electricity and plain facades with minimal ornamentation were encouraged by insurance companies to reduce the risk of fire. In the 1960s and 70s, these spaces began to be reclaimed as lofts and studios by artists taking advantage of the abundant natural lighting. Interior designers and magazines began to glamorize these dwellings, leading to the popularization of the industrial style today.
Elements of Industrial Style
Industrial style spaces incorporate various elements to create the end goal of a "warehouse" aesthetic. While these elements can vary slightly based off the subgenre of industrial style desired (pure industrial, urban industrial, or industrial chic), there are aesthetics that exist across the board. Some signature elements of the industrial style are: exposed ductwork and piping; the presence of metal on the walls, appliances, and decor; a juxtaposition of wooden and metal surfaces; the use of earth tones and neutrals as a color scheme; and the use of both vintage and restoration style furnishings to cap off the look.
Industrial Lighting Options
Lighting options with an industrial style play to the same ideas of rawness and practicality as the elements discussed above. Chandeliers in Urban Ambiance's Dallas, Athens, and Tangier collections incorporate raw metal and exposed bulbs, both of which fit in with the unfinished aesthetic of industrial style. If you're looking for pendant lighting with this same aesthetic, the San Sebastian collection is a good place to start. Using the Cape Town and Geneva outdoor collections, you can even extend the industrial style to the exterior of your home.
For additional questions about incorporating lighting into your industrial designs, contact Urban Ambiance today!