stainless-steel
Chandeliers
PRODUCT TYPE
CATEGORY
DESIGN FEATURES
SHADE CHARACTERISTICS
SHAPE
COMPATIBILITY
PRICE
SIZE
FIXTURE FORM
Collection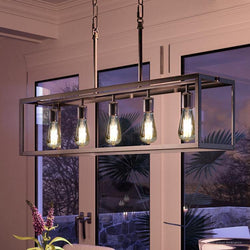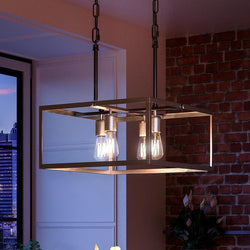 Chandeliers: For the Urban At Heart™
Ask most interior designers and you will find they all agree that the inclusion of a chandelier in a room, be it kitchen, dining area, or other rooms used for entertaining and gathering, instantly brings a sense of elegance and taste to an otherwise drably lit setting. There are multiple advantages to utilizing contemporary chandelier lighting as compared to normal floor and table lamps:
Chandeliers mimic the downward flow of natural sunlight, making it easier on the eyes
Chandeliers take no living space, thus avoiding being knocked over and broken
Chandeliers typically produce more effective and suitable lighting evenly dispersed across the room
Floor and table lamps generate glaring beams which directly hit the eye, causing a temporary white blindness  
Perhaps the best two reasons you should consider installing modern luxury chandeliers in your own home are:
Home Value

 

- this is one of the simplest, most affordable improvements to boost your home's intrinsic value
Aesthetics

 

- it is a fabulous way to express your individual taste and artistic eye without breaking the bank


Finding the Right Luxury Chandelier

At Urban Ambiance, we have done our homework, providing you with a wide array of chandelier types and styles. This of course simplifies your task of finding the right chandelier to express and enhance your current living space.
For many of our valued clients, this is an exciting process which tends to get their creative juices flowing as they review the variety of ceiling lighting options from which they can choose. It is not uncommon for someone to stumble across a chandelier type and style that literally wows them and immediately generates artistic ideas and approaches not previously considered.
The greatest value to our customers is our own background experience with contemporary chandelier lighting and the myriad of results we have seen thanks to the creative diversity of our many clients. We can also help you to determine which chandeliers function best in given spaces, particularly keeping in mind the dimension of the area where it will be installed.
Once you know the basic parameters of the chandelier which can best serve your purposes, you can really start shopping.
First, let's take a look at the varied high-quality chandelier types from which you can choose.
Types of Urban Chandeliers
Aren't all chandeliers alike? After all, they all hang from above, so how different can they be?
The fact that all chandeliers hang from the ceiling is perhaps the only thing similar between all the varied types of chandelier you should consider. Let's take a deeper dive to learn more about these various chandelier types...
Island Chandelier

 

- these designs contain a rectangular shape, almost creating the feeling of a floating island of light hovering above you 
Pendant Chandelier

 

- similar to a necklace or other hanging jewelry, this works with designs contained within a circular frame 
Semi-Flush Ceiling Light

 

- if you prefer overhead lighting which hugs closer to the ceiling, then this type will best serve your interests and taste
The Classic Chandelier

 

- of course, the original, classic hanging lighting structure is still as popular and versatile as ever, giving you lots of design choices
Within these four basic chandelier types, you will find a plethora of styles and shapes, so finding the combination which best sparks the energy of your inner artist just got much easier.
Popular Chandelier Styles and Shapes
First, you can choose from 49 different urban chandelier lighting styles we carry. Rather than burden you with the entire list of styles, we'll highlight some of our popular styles...
Americana

 

- for those seeking an early-American feel, this style captures it beautifully
Art Deco

 

- take advantage of simple, sharp patterns through this style
Art Nouveau

 

- for those seeking a more ornate design, this styles does it well
Birdcage

 

- this classic framed enclosure mimics the birdcage style with an attractive simplicity
Contemporary

 

- for a unique and complex look which reflects modern living, this is it
Farmhouse

 

- tapping into the unpolished materials found in farmhouses, this brings a dramatic naturalness to your frame
French Country

 

- for a modern, natural, European touch, this is the style for you
Geometric

 

- ideal for those seeking mathematical lines and angles not normally found on a chandelier
Industrial

 

- a simple solid framing simulates the open-air warehouse look which has gained popularity
Rustic

 

- while materials boast a rustic burnish, the designs defy the normal imagination of ceiling lights
Vintage

 

- curves and candle lighting brings out the vintage style with true pizzazz and verve
Then we have 13 different shapes used within the above list of styles, including...
Candle 
Circular 
Drum
Lantern 
Linear
Oval
Rectangular
Sphere (Globe)
Square
Tear Drop
Finally, our chandeliers also offer some of the following design features and materials...
Cage
Crystal
Fabric
Frosted Glass
Glass Globe
Metal Hood
Multi-Tier
Rope
Two-Tone
Unique Glass
Wood Tones
By working with this massive combination of types, styles, and design features, your choices become virtually unlimited!
Sizing a Luxury Chandelier for a Room
Perhaps you have a large living room area, a medium dining space, a long rectangular kitchen, and a small breakfast nook, all of which would look beautiful when illuminated by the right modern luxury chandelier. Clearly, these differently sized and shaped spaces require different contemporary chandelier lighting.
So is there a simple formula for determining what sized chandelier can fit into your different spaces? Yep, and it's super easy to calculate!
First, get the dimension of your room, by feet. 
Next, add those two dimensions together.
Finally, convert the sum of those dimensions to inches. That total represents the diameter of the chandelier which would best work for the room.
Let's take those four living spaces mentioned above, and run our calculations for determining chandelier size, assuming these dimensions...
Living Room: we will use a medium range space of 18 X 24 feet; your chandelier should have a 42-inch diameter (18 + 24 = 42 inches)
Dining Area: we will us a dining area space of 14 X 16 feet; a 30-inch diameter chandelier would work here (14 + 16 = 30 inches)
Kitchen: we mentioned a long rectangular kitchen, so will use 10 X 20 feet here; but because it's a rectangular space, let's use two 20-inch diameter chandeliers for this space (10 + 10 = 20 inches, used twice)
Breakfast Nook: this cozy spot measures 20 X 8; this make a 28-diameter chandelier perfect
Finally, the living room and dining areas can accommodate most types of chandeliers, but the kitchen and nook should focus on rectangular-shaped ceiling lighting, due to their rectangular layouts.
Amount and Direction of Light
The desired brightness of lighting usually varies based upon the space and the preferences of the homeowner. However, there are also other factors which will impact your final decision for the layout of lighting intensity and directional focus.
For instance, if your dining room area sports a huge panoramic window to the outside, you already have natural daylight filling your room. Even when the sun sets, the evening lights in summertime can still do a good job of illuminating indoor areas. Even in interior rooms with no outside windows, the colors of paint and flooring will affect the overall visibility of an area. Finally, some spaces work better as darker, meditative areas not requiring strong light, while other spots demand brighter environments; for readers, hobbyists, painters, and others working with details or smaller items, a strongly lit room is greatly appreciated.
All those factors and other should be considered when reviewing the various contemporary chandeliers available. Also, if you want more control over the direction of lighting, so you can spotlight different areas, shop for chandeliers offering the option to adjust lighting as you desire.
Installing a Chandelier
If you enjoy taking on home improvement projects, installing a chandelier is not very difficult, as these instructions illustrate...
Removing Existing Lighting
If you are replacing an existing overhead light, here are the steps you need to take to remove the old lights:
Kill the Power

 

- while obvious, we don't want to overlook the obvious, so be sure the power is off
Check the Power

 

- when working with electrical parts, you can never be too careful, so double check your power is off by checking the light switch
Remove Detachable Pieces

 

- take out the light bulbs, glass covers, and any other removable parts of the light
Detach Old Lighting

 

- this is usually as easy as removing any screws or lock nuts holding it in place (if you're replacing a heavy fixture, you may need someone to hold it after removing screws and lock nuts so it doesn't crash to the ground)
Note Wire Connections

 

- if you have colored wires, note which wires connected to the fixture; if wires aren't color-coded, use colored tape and code them now, making installation of your chandelier that much easier
Remove Old Lighting

 

- now you can remove the connecting wires, carefully take down your old fixture, and place it in storage or dump it
Install New Chandelier
Now you're ready to install your new luxury chandelier, which is as easy as following these steps:
Power Off

 

- if you did not remove an old fixture, be sure you kill the power before anything else
Check Chandelier Weight

 

- ceiling mount boxes can support 50 pounds; if your chandelier exceeds that limit, you will need to install a proper brace or box capable of supporting the weight
Assemble Chandelier Base

 

- except for the light bulbs (which you add once the entire unit has been installed), assemble the base of the chandelier (skipping the canopy which attaches to the ceiling)
Adjust Chain Length

 

- check to see how low the chandelier will hang with its current chain length; if too low, shorten the length by using pliers to open chain link and remove appropriate number of links
Install Mounting Strip to Mount Box

 

- add the mounting strip which came with the chandelier to the mount box 
Thread Chandelier Wires Through Chandelier Sections

 

- all of the chandelier wires need to vine through the chains going to the ceiling
Mount the Chandelier

 

- you'll need an assistant to hold the chandelier while you attach the wires from the ceiling to the chandelier (or hang it off a strong hook attached to the mounting strip)
Wrap Copper Wire to Grounding Screw

 

- both the house and chandelier grounding wires are wrapped around the grounding screw (usually colored green)
Strip Insulated Wire Ends

 

- remove about half an inch of insulation to expose the bare wire
Join Neutral Wires

 

- colored white on the ceiling and identified by a groove, ridge, or lettering on the chandelier, twist the house and chandelier wires together
Join Hot Wires

 

- colored black on the ceiling and unmarked on the chandelier, these wires deliver current to your chandelier
Bolt Chandelier to Ceiling

 

- once mounted and wired, bolt the chandelier into place (depending upon your model, manufacturer instructions will vary)
Turn It On

 

- add your light bulbs, turn your power back on, and prepare for a beautiful fountain of light rays to beam down on you and your happy family
If you prefer to call in a pro, expect to pay between $50 and $100 per hour for their time. Depending upon the size and complexity of your particular chandelier, it could take anywhere from one to four hours (between $50 and $400) for a professional installation. 
Chandelier Care and Maintenance
Your high-quality chandelier is like a work of art and should be treated as such. With regular care and maintenance, your chandelier will hold its fresh and new appearance for years into the future.
Follow these simple tips and you will always have a brilliant chandelier spreading its beautiful rays and shining like unique jewels:
Lights Off

 

- before beginning, be sure the lights have been off long enough that the bulbs and chandelier are not hot
No Chemicals

 

- even if you ran across a special "chandelier cleaning solution," don't use it; some formulas end up clouding your crystals or tarnishing your frame
White Glove Treatment

 

- always use a clean pair of white cotton gloves when you are working with your chandelier, so no fingerprints are left behind
Warm Water Only

 

- if there are stains or stubborn patches of dust, remove those individual crystals and wipe them with a cotton cloth dipped in warm water, and dry immediately
Yes, it really is that easy.
Now that you know how urban chandeliers can improve your home value and appearance, as well as the wide variety of types and styles from which to choose, it's pretty clear that adding chandeliers to your current living arrangement is a winning proposition any way you look at it. Contact us today so we can help you transform your current home into an illuminated paradise.