mediterranean
Bathroom Light Fixtures
There are no products in this collection.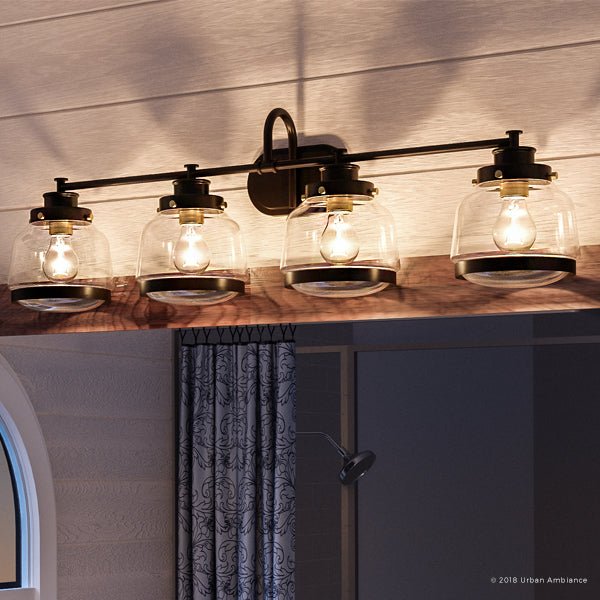 Bathroom Vanity Lights: Create Your Serene Escape
Quality bathroom vanity lights from Urban Ambiance are specifically designed to deliver strong clear rays of light with a minimum of glare. Our luxury hanging bathroom vanity lights help you examine every detail of your face, hair, and body to apply perfect touch ups and adjustments. Essentially, they serve as another, more exacting, pair of eyes which allows you to catch details easy to miss in dimmer settings.
At Urban Ambiance, it has been our pleasure to do the homework for you in advance, filtering out inferior quality, poorly designed bathroom vanity lights, and leaving you with an excellent selection of the finest and creatively designed high-end bathroom light fixtures which not only deliver the clear lights you want, but do so with a touch of style and elegance to your bathroom and other areas. Perfectly illuminate any style of bathroom with the wide selection of lighting solutions from Urban Ambiance ranging from industrial vanity light fixtures to modern bathroom vanity lighting.


Finding the Ideal Bathroom Vanity Light
While most vanity lights end up installed in bathrooms, bedrooms can also benefit with the right vanity light fixtures. Some people prefer to finish their routine of preparing for the day in their bedroom; for those folks, an installation of bathroom vanity lights in the bedroom is not only a sensible idea but brings extra brightness to this private area of retreat when desired.
Bright and clear lighting are essential features of any high-end bathroom light fixture you may acquire, but there are several ways in which to accomplish the light intensity you desire, such as:
Different Wattage

 

- by using a higher watt light bulb, you can increase the light brightness of your vanity lights
Bulb Sockets

 

- another way to add more bright lighting is with a bathroom vanity light fixture accommodating more than one light bulb
Nearby Reflectors

 

- it's common for bathroom vanity lights to be installed by mirrors, which will boost the intensity through its reflection
The above three factors boost your browsing options tremendously, giving you greater control over the exact amount of lighting you believe works best for each area you want to illuminate.


Types of Bathroom Vanity Light
Although most vanity lights are used in bathroom settings, as mentioned before, bedrooms and other areas can also benefit from the bright and clean lighting you can obtain with the right luxury vanity lights.
At Urban Ambiance, we offer you two specific vanity light types with which you can work:
Classic Bathroom Vanity

 

- the majority of fixtures fall into this type category, giving you a wealth of vanity lights from which you may choose
Wall Light Vanity

 

- while considered a minor category, we still carry 19 models of wall light vanities, which can be use in bathrooms or other spots
Within these two types you will find an excellent and charming array of vanity light shapes:
Candle Style
Circular
Drum
Empire
Geometric
Linear
Sphere/Globe
Square
Tear Drop
Looking for more variables within the vanity light types? Then check out the awesome finish tones used on different vanity fixtures:
Black
Bronze
Brushed Nickel
Chrome
Galvanized Steel
Gold
Polished Nickel
Silver
Stainless Steel
 There is even more for you to consider, allowing you to pinpoint down to the tiniest iota your exciting design concepts and visions. This include fixtures which are LED bulb-compatible, offer dimming functions, provide sloped ceiling-compatibility, and have reversible up/down capacity.  


Popular Bathroom Vanity Light Styles
At Urban Ambiance, we have an amazing collection of 178 different vanity light models offered in various artistic styles and themes. Please note that models fitting into more than category appear within each separate style category...
At Urban Ambiance, it's all about bringing light, transparency, and beauty into your homes by uncovering the best high-end bathroom light fixtures in terms of materials, workmanship, creativity, and durability. For you, this results in a reliable yet impressive list of quality bathroom vanity lights through which you can browse to get ideas and inspiration.
How to Size Bathroom Vanity Lights
Determining the appropriate size for your bathroom vanity lights depends upon the size of the space you are illuminating and the type of mirror you are using. When adding lighting to mirrors hung in a portrait position meant for the use of one person, installing wall vanity lights on each side of the mirror is a popular choice. However, if this is a smaller space where wall-mounted vanity lights look too cramped on each side of the mirror, then you are better off choosing one farmhouse style vanity light with multiple bulbs centered above the mirror.
If you have a mirror hung in a landscape position, you are more likely to get better lighting result by installing one or two hanging bathroom vanity lights above the mirror. If selecting one centered vanity light for a long length mirror, you should look at larger models which span across longer spaces and accommodate three or four light bulbs in its fixture.


Bathroom Vanity Light Intensity and Direction
Because of the specific need for clear lighting able to reveal minor details, vanity lights are particularly designed to aid you in this goal. Still, your space will determine much of your need. For instance, bathrooms with skylights benefit from natural daylight and may consequently have less need for bright indoor lighting. That is countered, of course, by overcast or stormy days, so balancing natural and electric lights is still required. 
Also, these factors will play into the amount of intensity and the direction of your lights:
Size/Shape of Fixture

 

- long rectangular vanity lights deliver much more illumination than lights posted on each side of a mirror
Number of Bulbs

 

- more light bulbs (and higher wattage) leads to bright lighting for your area
Shade Opacity

 

- some glass shades are transparent, while others contain degrees of opacity to mute the direct lighting
By balancing out the above factors, along with selecting the look which appeals most to your taste, you can find the ideal lighting intensity and flow for each area you install vanity lights.


Installing a Bathroom Vanity Light
Unless you are working with a new addition or a newly constructed home, you already have lights in the bathroom area. Replacing an existing vintage bathroom light fixture with your newly selected bathroom vanity lights doesn't take any special tools and can be completed in half a day or less. There are lots of good generic instructions to walk you through the process; we found this guide to replace bathroom vanity lights particularly helpful with its good clear steps and pictures.
If the installation is not replacing an existing fixture, but wiring is already in place, your job just got easier by 50%, since you don't have to remove any old fixtures. This guide for installing luxury vanity lights gives some good general electrical safety and code tips when adding a new bathroom vanity light.
Be sure to follow these general home improvement safety tips whenever working with lights:
Know Your Limits

 

- if you feel this task is beyond your skill level, trust that instinct and hire a handyperson to do the job
Use Good Tools

 

- proper quality tools make the job easier and safer
Create Work Space

 

- climbing over cords, boxes, and stools and digging around for pieces makes the job longer and more difficult than need be
Read Instructions First

 

- hours of frustration can be saved by reading instructions before diving into any project
Steady Support

 

- when working on vanities or other fixtures above your head's height, use stable ladders or step stools
Most importantly, because you are dealing with electrical wiring, if you are at all uncertain, do not make guesses. If you can't find a clear answer online, get professional help to handle the problem. 


Caring For and Maintaining Bathroom Luxury Vanity Lights
Because you want your farmhouse style vanity lights to function like new, bringing clear, sharp lighting exactly where you want it, regular care and maintenance of your vanity lights is a must. Besides working exactly as you need, keeping them in top condition positively contributes your overall home value.
By employing these sensible tips which are easy to integrate into your current cleaning schedule, you can keep your new luxury vanity lights in mint condition:
Easy Access

 

- if your vanity lights are installed above your mirrors, use a step stool to make reaching them easy
Cool Lights Only

 

- makes sure your vanity lights have been off for at least 15 minutes to avoid getting burned by a hot bulb
Avoid Abrasives

 

- mild soap and warm water can clean 99% of all fixtures, without leaving marks or stains
Manual Cleaning

 

- if any parts can be removed, do so and clean them in a separate space
Wear Cotton Gloves

 

- by wearing clean cotton gloves, your vanity lights remain smudge-free and shining
Use Microfiber Cloth

 

- a soft cleaning or dusting will eliminate most of the dust and dirt particles which may accumulate
Remember, giving a few minutes of attention to your luxury vanity lights each week equals years more of reliable service and beautiful looks.
Are you up for more ideas and inspiration? If so, head over to our Ideas and Inspiration blog where you can learn more tricks to make light flow naturally and where you want it to go. We love brainstorming with our customers, both existing and newcomers, so contact us today to learn more about effective and creative lighting tips for the inside and outside of your home.