dark-bronze
Pendant Lights
DESIGN FEATURES
SHADE CHARACTERISTICS
COMPATIBILITY
STYLE
PRICE
SIZE
BULBS
FIXTURE FORM
Collection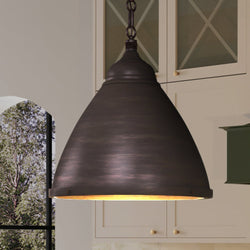 Pendant Lights: Exquisite Task Lighting
For years, hanging lights have been in demand. Even before electrical lighting was in existence, candelabras were celebrated in ancient Roman cultures as far back as 3000 BC and were commonly used in public buildings and many households. The concept of creating and controlling overhead lighting has been a fascination of humankind for thousands of years.
At Urban Ambiance, we have upgraded this ancient concept to modern times, with amazing improvements and alterations, all through the use of indoor pendant lights. And because we only work with the most reputable and successful lighting manufacturers, whose focus is on quality and style, you are treated to the luxury of browsing through our vast collection of pendant lights, with a great likelihood of discovering the perfect modern luxury pendant ceiling lights for your home.
Finding the Perfect Luxury Pendant Light
Your lighting and illumination needs vary from room to room in your home. This creates special spaces, some brightly lit to aid you in household activities such as hobbies, crafts, with other areas deliberately muted for a more meditative atmosphere.
With our carefully curated selection of quality luxury pendant ceiling lights, you have lots of ways to accomplish your varying illumination goals. For instance, you can choose pendant lights with different features; this will help you narrow your choices down to lights meeting your specific wants, such as:
Illumination Intensity

 

- different areas in your home need different levels of brightness, and we have pendant lights with various wattage and accommodating different numbers of bulbs
Ceiling Height

 

- higher ceilings may call for pendant lights with adjustable chains for determining appropriate lengths
Aesthetics

 

- thanks to the variety of materials and finishes, finding a pendant light matching your room tones is easy
With these options remaining on the table while you are shopping for ideas, you will find yourself easily focusing in on the ideal fixtures for each area in your home.


Types of High-End Pendant Lights
While pendant lights are a particular type in and of itself, there are also several types of modern farmhouse pendant lights we offer, which results in lots of outstanding options when shopping for pendant lights.
Our pendant lights come in a variety of shapes:
Candle Style
Circular
Drum
Geometric
Linear
Sphere/Globe
Square
Tear Drop
You also enjoy a variety of finish tones, making the matching or contrasting of fixture to room colors even more exciting and creative through these selections:
Black
Bronze
Brushed Nickel
Chrome
Copper
Galvanized Steel
Gold
Polished Nickel
Silver
Stainless Steel
White
 You will also find our fixtures to be LED bulb-compatible and have dimming capabilities, offering you even more choices and ideas when selecting pendant lights.  


Popular High-End Pendant Light Styles
At Urban Ambiance, you will find 120 different luxury pendant ceiling light models in a variety of classic and artistic styles. (Please note that some models fit into multiple style categories and are consequently listed more than once.)
At Urban Ambiance, we believe in offering our clients the best selections in each type of light fixture we have available. Fortunately, those seeking exciting beautiful pendant light designs will find more than enough choices in our carefully curated collection of quality pendant light fixtures.


Sizing Quality Pendant Lights for Different Areas
Thanks to their versatility, you can find yourself installing indoor pendant lights for many different places in your home. Just as a starting list for design ideas, consider these areas...
Entry

 

- an excellent way of lighting the first point which guests encounter upon entering your home, an appropriately and tastefully placed pendant light in the entry of a house can make a strong and positive statement
Dining

 

- employing two or more pendant lights in your dining area can be the final statement of culinary elegance when entertaining family, friends, or possibly business associates 
Bathroom

 

- pendant lights in the bathroom and shower area can be a wonderful addition to or replacement of the classic

 

vanity lights

 

typically found in the bathroom
Study/Den

 

- as replacements for desk or floor lamps, the right pendant light can add a quiet class while delivering superior illumination
Kitchen

 

- for the busy chef, space is a premium and sufficient light is a must, which makes pendant lights excellent candidates as the light source for food and meal preparations
Living Room

 

- instead of the standard overhead lights usually found in living rooms, the presence of pendant lights can be a bright change to a common area
Bedroom

 

- this is another spot where the use of pendant lights can create a warm and inviting tone in the room where peace, quiet, and rest are paramount
As you can see, each area will have its own demands concerning the size and placement of your luxury pendant lights. Generally, select fixtures which fit well for the room size, while calculating how many fixtures you plan to use in each area. The number of lights each fixture accommodates, along with its wattage and how low the lights hang, will also factor into determining the appropriate size of your pendant lights.


Pendant Light Intensity and Direction
As all modern pendant lights are overhead, much of the light flow directs upward, and you benefit from the reflective aspect of the light intensity. However, this is a general rule, and other factors should be considered when deciding how much brightness you prefer in each room or area, such as:
Distance

 

- some pendant lights hang much lower than others, giving you more direct light than those fixtures hanging higher from the floor
Bulbs

 

- you can find fixtures holding just one bulb with others accommodating a larger number, which increases brightness
Wattage

 

- bulbs with higher wattage produce brighter illumination
Shades

 

- some fixtures use shades to mute the intensity, while others use glass which emphasizes the brightness effect
Number of Fixtures

 

- for areas demanding greater illumination, many homeowners employ multiple fixtures in such spaces
By combining the above factors, you can get quite accurate in determining light intensity and how to put reflective light to best use.


Installing a Contemporary Pendant Lighting
When it comes to installing your luxury pendant ceiling lights, if you have the right tools, a stable ladder or step-stool, and an assistant able to help in taking down the old fixture and supporting your new pendant light while you secure it to the ceiling, it is fairly easy to complete and does not require a lot of time.
The general rules you  want to follow when installing pendant lights are:
Power Off First

 

- the first and foremost step when handling electrical wiring is to kill the power feeding the fixture you are replacing
Steady Support

 

- a lot of your work is at ceiling level, so have a stable ladder or step-stool available
Use a Partner

 

- working with overhead fixtures is not a solo job, even if your helper only holds and hands you things
Read Instructions

 

- many fixtures have additional instructions you should understand and follow before beginning the full job
Fortunately, for most installations, you will be working with existing wiring and replacing an old fixture with a new pendant light which better reflects your taste and style. Finding simple yet professional guidelines is easy to find online, so we put out the effort and uncovered this excellent guide to installing a pendant light. While this need is less common, we even found you a guide to wire up a new ceiling light.
Finally, if you're just not into the DIY thing, you can get a competent handyperson to do the job for you; it shouldn't cost more than $100 an hour nor take more than one hour per fixture installation.


Maintaining and Caring For Luxury Pendant Lights
Once installed, maintaining and caring for your indoor pendant lights is as simple as adding one more minor task to your weekly cleaning regimen to keep those lights shining as brightly and new as when you first purchased them. With regular attention, you can keep the look of your home fresh and new while also maintaining high value of the property.
General maintenance rules which keep your new high-end pendant lights in top condition are:
Lights Out

 

- always turn off your pendant lights for a minimum of 15 minutes to avoid burning yourself
Stable Support

 

- whenever working with fixtures attached to the ceiling, use a sturdy step-stool or ladder for a solid balance  
Clean by Hand

 

- remove all detachable pieces and clean them in a brightly lit area
No Abrasive Chemicals

 

- using industrial strength cleaners can cloud crystal and leave other permanent marks or stains
Dust with Microfiber Cloth

 

- either a feather duster or dry microfiber cloth will remove most dust and dirt particles
Wear Cotton Gloves

 

- whenever handling glass, wear clean cotton gloves to avoid smudges
We have even more ideas and tips which can brighten your home and life! Contact us today and let's explore the many avenues we offer which will lead you to a bright new house, both inside and out.